Our approach to sustainability
We know that in order to deliver on our stated commitment to sustainability, we need to understand our own impact, set targets, and take action. We are determined to help resolve social issues through business and that's why we have conducted a materiality assessment to help us prioritise our activity to ensure we can deliver the greatest impact. We have also set global environmental goals and action plans in line with our business strategy.
Our commitment to the UN Sustainable Development Goals
Launched by the United Nations in 2015, the Sustainable Development Goals (SDGs) are 17 global goals which address key social issues. These goals are a call to action for all countries and businesses to join forces and address some of the world's most pressing social and environmental issues. The SDGs were agreed by all 193 UN member states as part of the 2030 world agenda for Sustainability Development.
We have placed the Sustainable Development Goals at the heart of our business Growth strategy by aligning relevant SDGs to all our business activities and setting clear targets to measure our progress against them.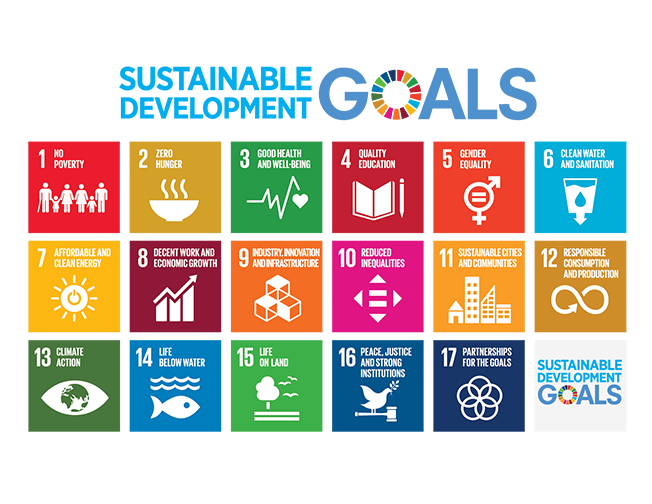 Resolving social issues through business
We carried out a comprehensive materiality assessment to establish which sustainability issues represented risks and/or opportunities for our business.
Process of Materiality Analysis

We believe that we can help resolve social issues through business. As a result, we identified seven priority issues which are aligned to the following 12 SDGs:

Our seven priority issues and our commitment
Creativity from work: we will help our customers enhance their "creativity from work" by providing them with digital technologies and services. 
Quality of Life Enhancement: we will provide solutions in the fields of healthcare and education by harnessing our technologies and improve the quality of people's lives through continual support for community development.
Zero-Carbon Society: we will strive to achieve zero emissions from our own business activities through comprehensive energy conservation activities and the use of renewable energy.
Circular Economy: we will contribute to realising a circular economy by promoting the collection and recycling of used products and the usage of recycled resources globally.
Stakeholder engagement: we will improve collaboration with our business partners and create win-win relationships to benefit our company, business partners and society.
Open innovation: we will foster open innovation with universities, research institutes and business partners to create new value and solve social issues through efficient research and technological development.
Diversity & Inclusion: we are committed to creating a diverse and inclusive workplace where employees feel valued at work.

By tackling these issues through business, we are actively taking action to support the UN Sustainable Development Goals.
The illustration below shows the link between Ricoh's seven material issues, the balance of the Three Ps (Prosperity, People and Planet – our philosophy for a sustainable society) and their alignment to the 12 Sustainable Development Goals where we believe Ricoh can make a difference: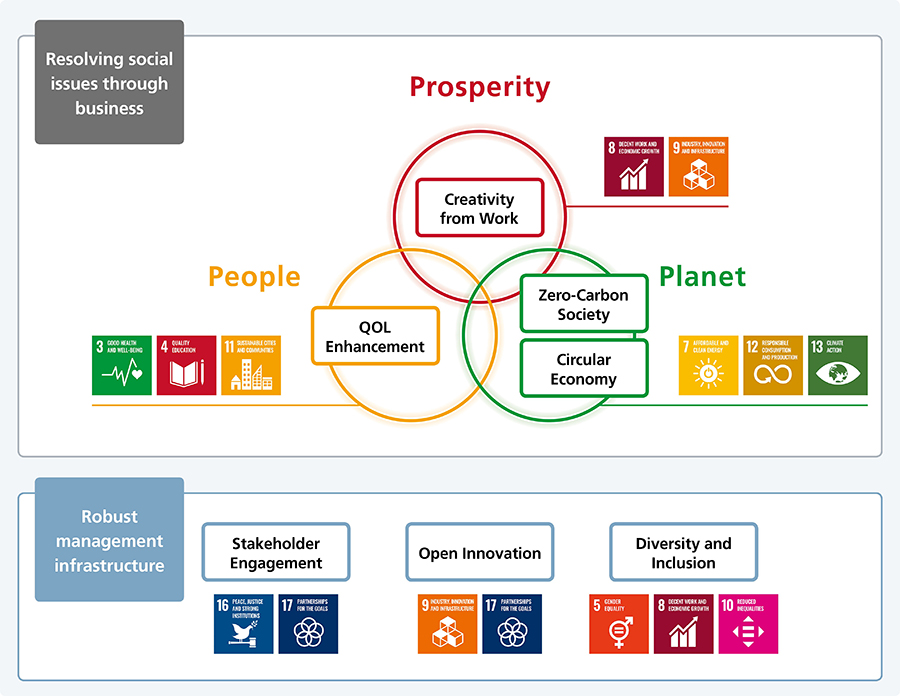 Case study: Our partnership with Utrecht University - Interactive & Collaborative Learning
Utrecht University is a strong advocate of using technology to enhance students' learning experience. To encourage collaboration between students, we have been working with the university on its Teaching and Learning Lab which is equipped with a variety of our products including video conferencing, Theta cameras, Interactive Whiteboards and projectors. This annual programme aims to develop projects and activities to help students, professors and researchers make the best use of technology for teaching & learning.
Our global environmental goals
To reduce the environmental impact within our own operations and help our business partners do the same, we have set global environmental goals for 2030 and 2050 in alignment to the UN's Sustainable Development Goals and the Paris agreement. 


As part of these goals, we have committed to reducing 63% of all direct greenhouse gas emissions from our manufacturing sites, offices and vehicles by 2030 and 100% by 2050.


These goals are set out in our
Environmental Action Plans
. Today, we are working on improving our own processes, systems and infrastructures to reduce our own environmental impact. 
Our commitment to delivering on our plans was further strengthened in 2017 when we became the first Japanese company to join
RE100
- a collaborative group made up of the world's most influential businesses committed to using 100% renewable energy. 
Our Sustainability Efforts
People

Making a positive and long-lasting impact on the communities where we live and work is important to us. Find out how we are taking action.



Planet

Our commitment to protecting the planet goes beyond reducing our own environmental footprint. We also support our customers to reduce their footprint.


Governance & Policies

We are committed to conducting business with integrity and to the highest ethical standards in compliance with the law and industry regulations.